From where I stand: Unpacking "local" in aid
A CDA Virtual Learning Forum
Across all our work, we are hearing increased calls for greater local leadership and enhanced "localization" of aid. CDA and our partners and colleagues have endeavored to highlight the fundamental relevance of shifting how we think about and undertake our work.
In the spirit of infusing this conversation with a fresh set of perspectives, opportunities, and challenges, CDA launched "From where I stand: Unpacking 'local' in aid".
Each week, we will create a space to help bring these critical and fresh, though often neglected, voices – from local practitioners to those working alongside them (including those who work on the policy and programming agenda) – to the forefront. We are asking partners working on these issues in their own context, as well as those seeking system-wide shifts in power, to contribute their perspectives about what works, what doesn't, what questions should we be asking, and what changes do we, as a community, need to make?
Our hope is to expand our collective thinking and understanding about what "localization" actually looks like practice, no matter how messy it may be. In doing so perhaps we can begin to answer the question: What if the evidence-base for local leadership, aid policy, and INGO practice was instead based on the diverse experiences and ideas of those leading humanitarian, aid, and peacebuilding efforts in their contexts?
---
For analysis on the themes we are seeing from the first 8 blogs, see our interim reflection piece "Meeting complexity with creativity: 5 themes in unpacking "local" with aid".
---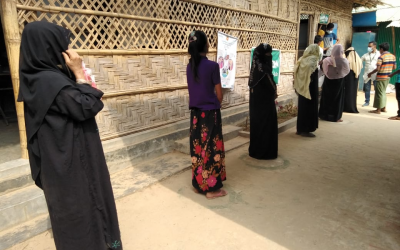 Authors of this blog discuss how far more is required to meet the growing demands of the aid system. Through a series of recommendations they argue that the international community must renew commitments to the localization of aid and increase the scope and speed of the transition to cope with the global impact of COVID-19.
In this blog Sarah Cechvala discusses how COVID-19 is challenging the traditional modalities of work in the aid sector. She argues that in the face of a global pandemic local leadership and action will occur out of necessity, regardless of the support from the international community. And so, we need to push for and embrace change now or never.
Share this article This article was originally published at www.stoppingassuccess.org, the dedicated website for the Stopping As Success research initiative.  In this article, Grace Boone of CDA Collaborative Learning, part of the...
Made possible in part by support from Humanity United