The CDA Perspectives Blog by CDA Collaborative Learning Projects
In this installment of our accountability and sensitivity series, Sabina Carlson Robillard urges colleagues in the humanitarian and development world to know who they are in the context they work in, and use that knowledge wisely. She draws on her time working in Haiti and Guinea, and the moment she realized she was a "divider" in the N'zerekore Ebola response context.
I first participated in a Do No Harm training from CDA in 2014, hosted by Norwegian Church Aid for its peace-building partners in Haiti. Through a mix of English, French, and Haitian Creole, about twenty of us sat in the Montana Hotel (recently rebuilt after having been damaged in the 2010 earthquake) as we learned about the Do No Harm framework.
The general theory (that aid interventions can do more harm than good) was something we had already embraced: key members of our team lived in our intervention zone, and if we messed up, people we knew and loved could end up injured, dead, or estranged from their communities. However, the grids of the CDA framework helped give us tools to structure, visualize, and communicate the lines that we were dancing around in our work every day.
Since then, I have worked with many aid organizations and individuals and helped them fill out this framework – I myself have used it in scenarios ranging from conflict reduction in Cite Soleil, Haiti to the Ebola response in N'zerekore, Guinea. I have seen all sorts of things be placed in the 'dividers' column – everything from ethnicities to a highway to football to coup d'états.
Yet in the past three years, there is one thing I have never seen anyone write in the dividers column: "us".
Do No Harm is founded on the idea that aid agencies are, in fact, not neutral and removed from the contexts that we intervene in. By entering a crisis, we become a part of it, and our actions can create changes, for better or for worse. So we use tools like the DNH framework to help us see the unintended consequences of our actions: how we select our beneficiaries, who we work with, what services we deliver.
Yet despite all this, I rarely see self-awareness that even our presence, sometimes regardless of what we do, can be a source of division. Aid agencies and aid workers are often symbols of the industry we work in, extensions of those who have come before us, representations of our race or nationality. In many circumstances, the minute you show up in a community as an aid worker, before you open your mouth to speak, you have already affected the dynamics in a community. We need to be more aware of what we represent in communities that have had challenging relationships with humanitarian aid.
In the Ebola response in Guinea, many communities refused to believe that the epidemic was real, and saw Ebola responders as unwelcome intruders trying to dislodge their traditions and take away their loved ones. White Land Cruisers, foreigners (especially white foreigners), white t-shirts with EBOLA written in red capital letters – these became symbols of a response that upset, and even angered, many.
So when I did my own individual Do No Harm analysis, I put myself on the board. I realized that as a white American who did not speak any local languages (despite my attempt to learn Sousou on weekends), who traveled in a Land Cruiser, and who was being paid to work on the Ebola response, I represented what a lot of communities distrusted. I was a potential divider. And so, despite running IOM's Community Engagement unit, despite wanting to be in "the field", I did my best to be invisible. I trained my Guinean team members to ask the questions I wanted to ask, to make the observations I wanted to make, and hold the discussions I wanted to hold. And they would share with me and we would debrief and discuss and plan. And when my Guinean colleagues felt it was best for me to come to a community – where they assessed that my presence would do more good than harm – they would invite me and I would show up.
It's important to be self-aware of what we represent. While my Guinean colleagues were of course part of the Ebola response, their presence wouldn't trigger distrust the way my presence would. They were Guinean, spoke the local languages, rode on motorcycles. I made sure that their t-shirts spoke about "health" in general, not Ebola specifically (this was late enough in the response that awareness-raising wasn't a priority any more). All of this to avoid dividers that would raise the walls of distrust between communities and our team, so we could find common ground to work together for everyone's benefit.
As I knew that my showing up to any community consumed social capital, I selected those visits wisely. Towards the end of the response, things were calm for a while, and then there was an outbreak in a community called Koropara in the Forest Region. It seemed that everyone rushed to the site. While most of those people were essential response staff, there were other people who were what we called "epidemic tourists" – people who wanted to go "just to see" or "just to be seen" there. I ended up in the region for a different initiative, and I kept getting asked, "are you going to go visit Koropara?", as if it was a local tourist attraction. I wasn't afraid of visiting, but I had no operational reason to be on site – I was part of community surveillance efforts, not the response. I would eventually go at the request of one of our staff members working on-site (to develop options for community engagement), but if no one had requested my presence, I would have let it be. The potential cost of one more foreign face showing up in a community that had previously refused to accept outside intervention was greater than what my simple presence could have otherwise added.
It is essential to assess where we as individuals – not just we as institutions – fall on the Do No Harm charts. Is the fact that you are a foreigner a connector (in a context where someone removed and neutral can calm tensions) or a divider (in a context where communities feel defensive and distrustful of outsiders)? What about your age? The language you speak? The color of your skin? The organization you represent? While we all want to be "on the front lines", we need to learn to honestly assess the benefits of our presence (how essential are you) to the costs of our presence (what we represent to the communities in question). Know who you are, and use that knowledge wisely.
---
This post is hosted on CDA Collaborative Learning Projects' CDA Perspectives blog. Subscribe to our mailing list to receive future posts from experts with unique insights, points of view, and experience on accountability and feedback loops. We hope to hear and learn from your reactions to our posts. Please comment below or contact Jasmine Walovitch [email protected], if you are interested in submitting a guest post.
---
Sabina Carlson Robillard is an American citizen based in Port au Prince, Haiti. She specializes in helping humanitarian and development agencies to engage with the communities they work with – increasing accountability and responsiveness while reducing potential negative impacts. Her background includes community health, disaster-risk reduction, food security, and conflict management & peacebuilding. If you want to hear more from Sabina about her insights from working on Ebola response in Guinea, and disaster relief and gang violence in Haiti, contact her at [email protected].
This post is part of the corruption in fragile states series. Subscribe to our mailing list to receive future posts from experts with unique insights, points of view, and experience on anti-corruption policy, program design, and implementation. We hope to hear and learn from your reactions to our posts. Please comment below or contact Cheyanne Scharbatke-Church, at Cheyanne Church [email protected], if you are interested in submitting a guest post.Concluding summary about this article.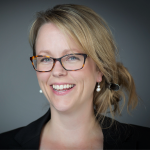 Cheyanne Scharbatke-Church is Principal at Besa: Catalyzing Strategic Change, a social enterprise committed to catalysing significant change on strategic issues in places experiencing conflict and structural or overt physical violence. She has significant experience working on anti-corruption and state legitimacy in the DRC and Uganda.  As a Professor of Practice she teaches and consults on program design, monitoring, evaluation and learning. Cheyanne is also a regular author and co-curator of the blog series on corruption in fragile states.