"There are no boundaries… there are synergies": The role of responsible transitions in decolonizing development
"Transition was the process of the INGO leaving our context", a participant from Bosnia-Herzegovina explained at our closeout workshop in early March, "but transformation was the outcome." She went on to explain how the exit of an INGO from their context resulted in a shift in their organizational model and priorities. This transformation process is what the Stopping As Success (SAS) consortium has been learning about for the last three years.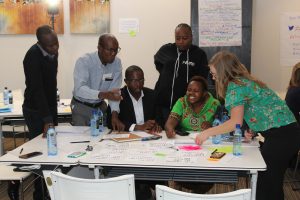 SAS was a learning project undertaken by CDA Collaborative Learning, Peace Direct, and Search for Common Ground. Our project centered listening to communities most affected by INGO transitions[1] and understanding what 'success' looks like to people who have lived through these processes. Although we were interested in the technical aspects of transitions (legal, financial, human resources, governance, etc.), our work intentionally focused on legitimacy and power and partnerships; a recognition of how the aid system's colonial history continues to uphold unequal power dynamics between (mostly Northern) INGOs, donors and organizations, communities from the Global South. By advocating for responsible transitions, SAS aims to contribute to the push for locally led and decolonized development, with a specific focus on shifting systems of power towards local leadership.
Aid isn't the problem, but how the system maintains unequal power dynamics is
In 2017, SAS joined the Journey to Self-Reliance, #ShiftThePower, the Grand Bargain and other global calls for equity, inclusion, and justice. Over the last three years, I have been pleasantly surprised from the feedback that SAS has received through our consultation with partners around the world. Sitting in regional evidence review meetings centered on gathering feedback from diverse stakeholders with transition experience, I found myself bracing for anti-aid sentiments. Instead, our team heard the call for a transformation of the aid system and how international actors' partner with communities most closely affected by aid.[2] As one colleague reminded us: "There is always room for accompaniment, there are no boundaries… there are synergies."
During the times of Covid-19, transformation has never been more necessary. While the world has gone through unprecedented changes as a result of Covid-19, the international development sector is no different. Aspects of development like equity, INGOs letting go of control, and dismantling the 'white gaze' are becoming more mainstream. The international development sector is being forced to grapple with local leadership with urgency like never before. As Sarah Cechvala says in her blog: "In the time of COVID-19, "localization" is no longer a policy-level debate with little practical action or application. It is an essential reality. A reality that is likely here to stay."
Simultaneously, #BlackLivesMatter has sustained a global movement for weeks, after George Floyd was murdered by the police in the U.S. Protests have spread around the globe, bringing anti-racism and violence against Black people to the forefront of the global conscious. The development sector is also reckoning with its history of racism in a way like never before. When talking about development practitioners addressing racism in their own backyard, Dost Bardouille asks: 
"So why do those of us who have dedicated our careers to making sure marginalized groups are respected and treated with equality often feel a degree of powerlessness to address systemic injustice in your own backyard?" 
Given this moment, transformation is even more essential.[3] One of the key areas of transformation is authentic and mutual partnerships. For SAS specifically, we see the power in post-transition partnerships because they exemplify that transitions don't have to mean an end to the relationship. As our Responsible Transitions and Partnerships: Issue at Stake [4] thought piece explains: "As the world continues to grapple with complex challenges that require collaboration, solidarity and support from multiple and different types of actors, partnerships that are based on mutual understanding, shared values and principles, accountability and trust are more important than ever."
Although none of this is new, it is becoming more mainstream which provides a unique opportunity for people across all organizations, sectors, and identities to join together to shift systems of power.
How can we bring about the transformations we want to see?
For me, the larger question for all of us becomes: Why are we not learning and adapting, even though we see and experience these inequitable power systems? And, what can we do about this imbalance? 
I cannot begin to give answers to these dire questions. However, I do offer some considerations below. I hope these questions support you to continue influencing systems as we collectively work together to shift power individually, organizationally, and systemically.
What can we do as individuals to build an inclusive and diverse aid system? Maybe, especially if you identify as white, it's actively working to combat white supremacy,

speaking out in

all-white

spaces, and/or taking the

#NoMoreWanels pledge.

Maybe it's working to

 

decolonize the development sector

and learning how to be anti-racist in aid.
How can we support ourselves, and others, for the challenging work that system shifting entails?

Maybe it's taking care of yourself and practicing

radical self-care so you have capacity to shift systems of power (which is an exhausting and often lonely thing).
How can our organizations better reflect equitable, diverse, feminist, and intersectional spaces? Maybe it's focusing on your organization's hiring practices to ensure diversity and inclusivity.

Maybe it's making decisions to combat global warming by supporting

carbon offsetting.

Maybe it's having

difficult conversations to address racism in your own backyard

.

How can you advocate to shift systems, policies, and laws to represent a world where marginalized voices are centered, and decisions are made by people closest to the issue?
My hope is that Covid-19 has sped up decolonizing and transforming the aid sector because we are being forced to grapple with critical questions with unmatched urgency. May we not let this moment pass. May we, as a community, remember of the synergies that exist within development and continue to work together to shift systems of power.
---
Citations
[1] SAS defines transition as a process when an INGO transfers ownership and responsibility to a local entity and ceases to operate physically in a given context or has completed the delivery of a donor-funded program. For more SAS definitions (like what we mean by 'local'), see our FAQ.
[2] Similar to what the Time to Listen book found after interviewing 6,000 people on the receiving end of aid in the early 2000's.
[3] For additional information on how to transition during a pandemic, see SAS's most recent blog: "4 Ways to Transition During a Global Pandemic".
[4] Ahmed, Farzana and Isabella Jean. "Responsible Transitions and Partnerships: Issues at Stake." Stopping As Success: Transitioning to Locally Led Development. Page 6.
Photo Credit: All photographs in this blog were taken at the Stopping As Success Regional Evidence Review Meeting, Nairobi, September 2019. Photo credit: Peace Direct.
This blog was written as part of the "From where I stand: Unpacking 'local' in aid" series. Each week, CDA will create a space to help bring  these critical and fresh, though often neglected, voices – from local practitioners to those working alongside them (including those who work on the policy and programming agenda) – to the forefront. 
Our hope is to expand our collective thinking and understanding about what "localization" actually looks like in practice, no matter how messy it may be. In doing so perhaps we can begin to answer the question: What if the evidence-base for local leadership, aid policy, and INGO practice was instead based on the diverse experiences and ideas of those leading humanitarian, aid, and peacebuilding efforts in their contexts?
For more blogs in this series check-out:
And many more to come soon! If you are interested in contributing to the series please contact Sarah Cechvala at [email protected]. We would love to hear from you and include your perspective.  
Grace Boone joined CDA in 2018. In her work, she actively engages with decolonizing aid, climate change and conflict, and racial and gender equity in the development sector. She is driven by the desire to shift the international development system to be more accountable to communities most affected by aid and she works alongside people most affected by conflict to inform conflict-sensitive policy and practice.
Grace is a skilled researcher, convener, facilitator and manager of people and processes and is most energized by bringing people together to find solutions to complex systemic issues. Most recently, Grace managed the Stopping As Success (SAS) collaborative learning project which advocates for locally led development by using evidence from 13 countries to inform responsible INGO transitions. Her portfolio also includes locally led peacebuilding, disaster risk reduction (DRR) and conflict, and conflict-sensitive funding practices for donors.
Outside of CDA, Grace experiments with a variety of art mediums, including painting, poetry, and, most recently, printmaking. She was born in the United States and raised in Mozambique and South Africa. Currently, I am based in Washington D.C.