Meeting Complexity with Creativity: 5 themes in unpacking "local" in aid
What is this blog?
This blog provides our initial reflections about the emerging findings from the From Where I Stand virtual collaborative learning forum. It presents the salient themes that we noticed across the first eight blogs in the series. Usually, in our learning processes these trends are brought to a consultation with practitioners, experts, and academics – which, in this case includes you. So, in this new virtual form, we are seeking your guidance, thoughts, and feedback about the emerging patterns which we will gather through a short survey after you read this. You can find a more in depth analysis of the initial findings in our reflection paper.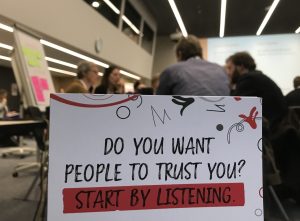 Sitting in grade school history class, I remember a teacher inviting us to look at the textbook authors. She then asked us: "Who are they and why does it matter?" This question turned on a light bulb for me. This exact question highlights why I had always been drawn to first-hand accounts of real people attempting to influence the direction of change while it was happening. The meaning making we have in the form of essays, op-eds, even letters to loved ones, that capture the lived experience of leaders is all the more essential in moments of rapid change. And fundamentally it can actually change the course of history.
Surely over the past  few months we have witnessed rapid change. Covid-19 and its immediate impacts on aspects of public health, economic and racial justice, and food security are exacerbating already dynamic issues that touch communities in all corners of the world. Violent tensions involving local and national law enforcement that disproportionately impact specific racial or ethnic communities – from Kenya to Brazil, the Philippines to the United States – dramatically highlight this current moment in history.
And, as always, there are leaders everywhere, meeting the complex challenges with the creativity that comes from a deep sense of purpose and knowledge of place.
So, who are they and why does it matter?
The platform From Where I Stand: unpacking 'local' in aid was born out of CDA's long-standing passion for innovative ways to learn with people at the center of aid. Offered as a 'virtual collaborative learning' initiative, the goal is a space for different vantage points on the 'localization agenda' in humanitarian and development aid or 'local turn' in peacebuilding.
This series is an opportunity to blur boundaries of voice and role, location and sector, to seek out leadership perspectives where people are leading. The initial group of authors write from Nepal, Kenya, Haiti, Yemen, Israel, United Kingdom, and the United States, each with years of direct experience in humanitarian response, development assistance, and/or peacebuilding.
Each blog is thus a rich case study, starting to answer the central collaborative learning question:
What if the evidence-base for local leadership, aid policy, and INGO practice was instead based on the diverse experiences and ideas of those leading humanitarian, aid, and peacebuilding efforts in their contexts?
What stands out? 5 patterns and themes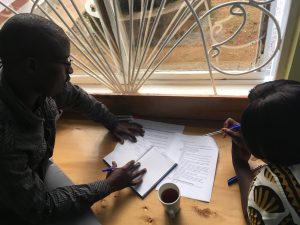 Each blog is a pleasure in and of itself, and there is a shared tone of engagement throughout. Each one  shares a different set of expertise, speaks to diverse situations, exemplifies a courage to question and offer alternatives to policies and systems that define the parameters of their work, and an urgency to get new insights that can help them continue their own work. Based on the authors' commentary on personal experience, analysis of trends, and calls to action, we observed several emerging themes, which we explore in more depth in an initial reflection paper and summarized here.
1) "We, local leaders": Voice and who chooses the label
A thread throughout the series is the question: Who is 'local'? Authors show the many dimensions of the term, including how it can be 'othering' of individuals and create challenges for agencies, or be a powerful force for decolonizing development when the 'local' label is claimed authentically. They grapple with aspects of identity and representation, including who is called an 'expert' and the power dynamics of which voices have a platform for sharing their ideas and influencing others.
"When your grandmother counts as one of the IDPs is when you realize that, for the true local, the personal and professional are too close to be untangled." – Paul George
2) Agency and the (different) lived experience of trust and risk
Authors explored various gaps in trust between international and 'local' actors and the communities they serve. Several also described the challenges they face with the replication of global-local power dynamics. Risk imposed on national and community actors, unintentionally or otherwise, is also a subtle theme, which may be further explored in future blogs in the series.
"Localization also arises from the moral and practical imperatives to reorient international aid to respect and leverage the basic human need for self-determination (agency), and its partner, dignity." – Ann Hendrix-Jenkins
3) The "Why" and "How" of greater accountability to communities
Accountability to those with whom we work is as much about the "why" as the "how", as noted by many of the authors. For example, the theme of accountability to communities was discussed as a potentially underdeveloped source of power for leaders. Authors' insights add to the evidence base about what it takes to move from principle to practice on accountability as a source of power in local leadership, including "how to learn from people themselves."
"For me, accountability means the responsible use of power – at every level, in every organization." – Ujjwal Amatya
4) "Systems are where change happens"
As diverse as the blog authors are, they share a common trait as systems thinkers. They explore what it will take – largely on the part of Northern actors – to change mindsets and ways of working to actually achieve the vision of locally led development.
"Indeed, right now the real risk is failing to shift power and resources fast enough to respond to growing need at the local level." – Alex Martins
5) Implicit bias and Do No Harm
Power, privilege, and the potent role implicit bias plays in 'localization' was raised as critical. Through different examples and experiences, authors explain that context matters, and the urgency to shift to greater local leadership should be coupled with a deep understanding of the people and context in order to "Do No Harm".
"It is both right and inevitable that local actors are going to play a bigger role in future. The power dynamics, conflicts, and fault lines that come with that shift will be different in every crisis-affected area. It is not good enough to cut a check to a 'local' group without understanding those dynamics – you may end up doing more harm than good." –  Sabina Carlson Robillard and Louino Robillard
Place-based leadership
If there is an overarching lesson from this collaborative learning forum to date, and from my personal career in which civil society and local governance leadership have been a constant thread, it is that there are millions of acts of leadership taking place across every community around the world every day. But, there is a great inequity in who has access to voice their experiences and dictate the advancement of greater local leadership. Finding ways to gain access to critical platforms where their voices can be amplified is an acute challenge for leaders in the Global South. This issue has slowed progress on pernicious global issues such as poverty, conflict, racism, and climate change. These complex challenges demand as much creativity as we can muster, we just have to look in more places than ever before and shift the resources so leaders everywhere can lead from where they stand.
As Pauline Wambeti writes in her blog about growing into a leader in Kenya:
"I now know the story of development is different for every community. The majority of these practices began as unique ideas of a struggling community that were bold enough to take on their challenges, document their struggles, and celebrate their achievements. When funders impose these 'best practices' on other communities, they stifle innovation and creativity." And the lesson for herself, "I have learned that my most important role is to grow as a leader. That it is the only way I can grow other leaders."
Where to from here?
In asking the question, "who are they and why does it matter", my grade school teacher was really inviting us to unpack identity, voice, and power. And so, now we would like to invite you to do the same. Our collaborative learning processes seek to incorporate a wide-range of experiences and perceptions, and so we ask you:
Of the five themes explored above:
Which ones feel the truest from where you stand?
What other patterns do you see in the blogs?
Who else has a critical perspective to share from their vantage point of local leadership?
How can the evidence and lessons of this virtual learning forum aid local leaders and the wider systems change called for in the blogs?
 We would like to invite you to share your reflections through this simple form and be part of the conversation going forward. This process is an experiment in taking collaborative learning to a virtual platform. We can't wait to see who comes to the table and where we go next!
---
Photographs and graphics from top to bottom: Image 1: IFRC International Conference 2019 Image 2: Karamoja, Uganda Image 3: Do No Harm Training in Turkey. All photo credits: Ruth Rhoads Allen
You can find our Reflection Paper here
This blog was written as part of the "From where I stand: Unpacking 'local' in aid" series. Each week, CDA will create a space to help bring  these critical and fresh, though often neglected, voices – from local practitioners to those working alongside them (including those who work on the policy and programming agenda) – to the forefront. 
Our hope is to expand our collective thinking and understanding about what "localization" actually looks like in practice, no matter how messy it may be. In doing so perhaps we can begin to answer the question: What if the evidence-base for local leadership, aid policy, and INGO practice was instead based on the diverse experiences and ideas of those leading humanitarian, aid, and peacebuilding efforts in their contexts?
For more blogs in this series check-out:
And many more to come soon! If you are interested in contributing to the series please contact Sarah Cechvala at [email protected]. We would love to hear from you and include your perspective.  
Ruth Rhoads Allen is leading CDA into its next chapter as a collaborative platform. She is responsible for strategy design and ongoing co-creation of CDA's vision, technical focus, and means for engaging its global network to address critical issues and common challenges across humanitarian, development, and peacebuilding fields. Ruth also works directly on several of CDA's collaborative learning and advisory services partnerships.
Ruth has worked across these fields for nearly 20 years, with direct work experience in over 30 countries, forging her passion for community resilience in the face of inevitable social, political, and environmental systems-level challenges. Her own substantive work is on cross-sector partnerships, good governance, and civil society leadership, having published significantly for both practitioner effectiveness and policy influence. From 2004-2013 Ruth served in multiple positions at Mercy Corps, including leading the agency's global technical portfolio as Director of Governance and Partnerships, and as Senior Advisor focused on strategic planning in sensitive environments. As Founder of ViewFinder International in 2013, Ruth continued technical consultations as well as expanded her expertise leading strategic organizational change process for INGOs, UN agencies, national organizations, and private funds.
Ruth previously worked with Human Rights Watch and Conflict Management Group and served on the board of Alliance for Peacebuilding. She joined CDA's board in 2017 after collaborating as an advisor, trainer, or consultant with CDA for over 15 years. Ruth began her career in South Africa as an International Observer for the government's Truth and Reconciliation Commission. She then lived in Kenya while a Rotary Foundation Scholar at the University of Nairobi and researcher at Nobel Laureate Wangari Maathai's Greenbelt Movement. Ruth earned her MSc from Clark University's International Development, Community, and Environment program, where she has been a Department Instructor. Ruth serves on the Advisory Board of Global Oncology and blogs about humanitarian issues for US audiences at NPR's Cognoscenti.